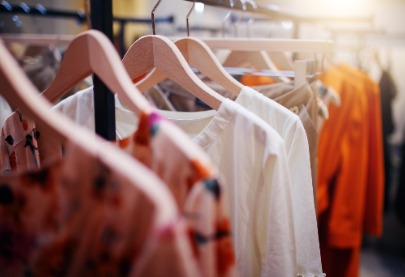 As I walked into Goodwill recently, I was unaware of the lessons that God would teach me from the experience. I knew my obvious reason for being there, namely finding some winter clothing pieces, but, as usual, I didn't know exactly what I would find that would fit the bill. Neither did I have any idea what serendipitous happenings would occur.
Without delay I headed to the areas that contained the clothing item categories I was looking for, and then checked the rows containing my size. Hmmm, I quickly realized I had a slight problem. It was readily apparent that the clientele who donate to, and shop in, this particular store is interested in more mature-looking styles and colors than I prefer. Consequently, I could tell my choices would be limited. What to do?! Keep searching for whatever hidden gems I could find. And besides, maybe less to choose from would prevent choice overload, which was good because I didn't want to become overwhelmed or waste my time, especially since Gary had come with me and would soon get bored. But still, I didn't want to miss some good finds. Focusing intently, I proceeded to peruse each aisle in my size, going through the items as a speed reader would, searching for certain details. And before I knew it, my cart contained some nice pieces that would fill the empty spaces in my winter wardrobe.
By the time I'd finished my perusal, I was amazed at the finds lying in my shopping cart. They were the right size, right color, right style, found among many others that were not right. This searching reminded me of the parable Jesus told of the man who was searching for hidden treasure. It takes time and concentrated effort to find buried treasure, whatever type of treasure it is. Have you ever been searching in God's word for answers to some question, some situation? Rarely does the answer come right away. Generally, I've found it takes time reading, praying, searching until the answer comes into focus.
There have been times when I've really enjoyed going out to go shopping, spending a big chunk of the day finding things on my long saved-up list. But lately I've gotten so that I tend to prefer shopping online for things, including clothes. It's so much easier for me. We all know how that is. No need to use valuable time and money to drive to the store(s), find a parking spot, get a cart (and hope it doesn't squeak, veer off in a funny direction, have a non-working wheel, or any number of ailments common to shopping carts), maneuver between the aisles crowded with fellow customers, search for the items, wait in line for a vacant dressing room, then wait in line to pay for your items. Whew, I get tired just writing about it! But instead of this hassle, for online shopping all I need to do is to get out a computer, never needing to leave whatever room is most convenient to do the online shopping, never having to brave the cruel outdoor elements of too hot, too cold, too windy, too wet, too dry, ad infinitum. And voila, the items ordered from a favorite easy chair come right to the front door, almost like magic!
But for those of us who like to shop for repurposed clothes, online is not always the best place to do that. So…off to the thrift store I go. And perish the thought that I might meet people there that I can bless! What a novel idea that going shopping can be a witnessing opportunity. In that more serious vein, prayer before heading out of the driveway to whatever destination, is hardwired into me. I want God with me everywhere I go. And this shopping trip was another one of those instances where God showed Himself very present.
As I mentioned, I rather quickly found the items I needed. But in my mind, I was a bit sad that I hadn't found a jean jacket. I believed that I really needed one. But oh well, guess not this time, and hadn't God helped me find everything else? Besides, maybe I don't really need one, so God didn't provide one.
We had paid for the items I found, and were heading towards the door, when I thought my eyes were playing tricks on me, and I also felt like the scene was playing in slow motion, for right in front of me was a store clerk putting new items on the racks, and what did I see, but a jean jacket just my size, color and style being lifted out of the cart, and destined to be hung on the rack. In stunned surprise, I asked the clerk if I might try on the jacket. I put it on, still in a daze, and Gary let me know for certain that it was "the one" for me. I was in total awe as we returned to the checkout counter. God cares about little things, still goes through my mind, as I remember that situation.
After paying for the "gift" jacket, we were headed, once more, towards the exit doors. I was again surprised when a lady sitting quietly in a chair near the exit called out a firm, yet not too loud, "Thank you!!" "Thank YOU", I responded. I don't remember what she looked like. She would not stand out in a crowd, but that's not what impressed me anyway. It was what she said. I can still hear her pleasant voice thanking us for coming. This is something I could not have received if I had stayed at home and ordered online. "Thank you" is such a simple sentence, but it comes packed with so much life-giving energy. I walked out of that store with my heart warmed down deep and lasting.
Simple things. That's what I experienced in the thrift store. Simple things like seeking and finding treasure; that God cares about our little needs; and that simple, kind words can go a long way in making someone's day.